High Frequency Blister packing Machines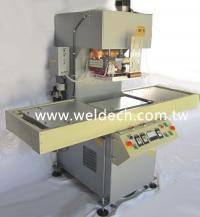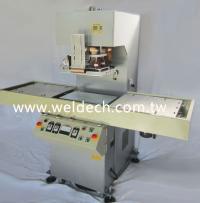 Product ID: PW-401CMS, PW-401CAS, PW-501CMS, PW-501CAS

High Frequency Welding Machine for using Pure PVC or soft & hard PVC leather that contain over 30% PVC, PU, TPU, PET, EVA, PVC transfers to genuine leather special fabric PVC materials-all of these can be process...
APPLICATIONS

Blister packing.

Foot wear, Trade mark labels, Stickers.

Raincoats, Tarpaulins, PVC umbrellas.

Traveling bags, Handbags, Beach bags.

Stationery, Name-plate badges, Inflatable toys, Air boats.
See more complete detail
Model

PW-401CMS, PW-401CAS

PW-501CMS, PW-501CAS

Slide Table Type

CMS: Manual / CAS: Automatic

CMS: Manual / CAS: Automatic

Welding Head Operation

Pneumatic

Pneumatic

H.F Output Power

4 KW

5 KW

Input Power

6.5 KVA

8.5 KVA

Oscillation Tube

E3062 CANON JAPAN

7T85RB CANON JAPAN

Oscillation Frequency

40.68 MHz

27.12 MHz

Power Supply

AC 220/380
/400/415
/440V 3Dia. Voltage to be arranged at instruction.
AC 220/380
/400/415
/440V 3Dia. Voltage to be arranged at instruction.

Rectifier

Silicon diode

Silicon diode

Press Stroke

150mm

150mm

Upper Plate Size

250 x 350mm

350 x 450mm

Lower Plate Size

300 x 400mm

400 x 500mm